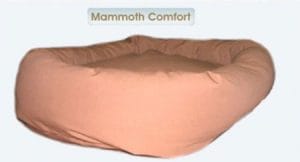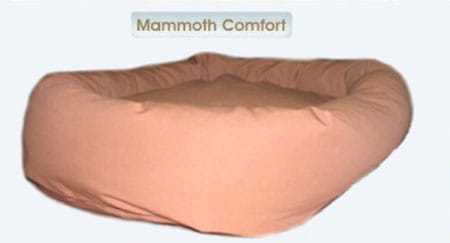 Industrial strength textiles.
High memory virgin upholstery fiber fill
Removable / reversible cushion
Removable covers
Easy Velcro system
Antibacterial
Anti odor
Stain resistant
100% machine wash / dryable
Fabric protector
Orthopedic qualities
Soft and moldable
Easily transportable
Can fit into any decor
Designer Dog Beds, The Ultimate In Luxury For Your Pet
Mammoth dog beds provide a fashionable domain for large dogs and blend with any home décor. We offer an array of styles, colors, and fabrics to choose from, so everyone can find the perfect 5-star bed for their canine friend. Our bedding choices are one-hundred percent washable with a removable pillow that makes cleaning a snap.
Donut-style bedding is for dogs that like to curl up when they rest. Our circular beds are big enough to accommodate any large dog, like German Shepherds, Great Danes, Rottweilers, Malamutes and more.
Oblong beds are a good fit for dogs that like to stretch out with all the fetaures.
We also carry mats that fit nearly any size travel crate or cage.
Luxury beds that offer latex, organic, and memory foam options.
Exclusive designer fabrics.
A Luxury Experience
For the height of luxury, we carry an extra large couch with a sleek, lavish bolster. Not only does it provide the best comfort and support for your large breed dog, it comes in a variety of classic and contemporary styles that will look great in any home. Tailor the bed to your dog and your home, with these choices:
Personalize your dog's bed with up to 21 letters of embroidery. Make it fun with messages like "Spoiled," "Sleepy Dog," or "Man's Best Friend."
Choose from finest fabrics for the outer shell of the bed, including canvas, denims, micro velvet, suede, fleece, vinyl, leatherette, and Sherpa.
Choose from a variety of colors and patterns.
Options like orthopedic memory foam, organic foam and latex.
Award Winning Design
Mammoth manufactures quality products for pets, and is committed to producing top notch dog beds at an affordable price. All Mammoth beds are designed to withstand the everyday demands of your pet, only the toughest fabrics are used. Care is easy with our Velcro removable slipcover system. All beds are professionally serged, and feature a removable and reversible travel pillow.
Mammoth is recommended by veterinarians, breeders, daycares, groomers, and people like yourself who we depend on for repeat business.

You will find Mammoth at many dog competitions, agility trials, and help lots of breeder clubs with charitable donations.
Want to purchase now, visit the outlet store in your area.
Shop
Dog's Domain
Many dogs like to sleep on the couch or on the bed, but having a separate domain for your canine friend has its benefits. No longer will your large dog get your couch dirty or chew on your favorite pillow. When you set them up with a Mammoth, they'll take it over other options, even that cozy couch in the living room! And when it's time to wash, you can just throw the cover in the washing machine. Our beds come in a variety of sizes that fit even the largest dogs. Plus the fabrics used to fashion these dog beds are of the highest quality:
The abundant amount of engineered upholstery memory fiber contained in every Mammoth bed molds exactly to the dog's body. It possesses extra support, great for larger dogs for easing hip pain, easing back pain or easing joint pain.
An optional orthopedic foam insert is an excellent way to ensure a good night's rest for your dog.
The organic materials our beds are made from guarantee a five-star experience for you and your dog.
A removable pillow for travel capabilities make Mammoths easy to take outdoors for hiking and camping trips. Just place the pillow in the back seat to protect or provide extra comfort.
Mammoth is the superior choice for you and your large dog. In fact, our bedding is specifically designed for the largest breeds such as Mastiffs, Swiss Mountain Dogs, German Shepherds, Collies, Great Danes, Airedale Terriers, and Irish Setters.
Investing in high-end, luxury dog bedding can be a great move for you and your dog or puppy. It's time to toss that old, dirty blanket and invest in a 5-star, designer dog bed that will compliment your home décor.